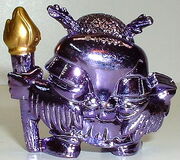 Seer is the main character in series 2 of Fistful of power. Seer is the one who made the prophecy that The One will come and end Xars reign of terror.
There were only 1,000 Seers released per country. However, they were only released in Australia which means that there are only 1000. Each one was individualy numbered. Seer is neither a hyper, a shadow or a crystal.
Seer is worth 15 points, which is the second highest point ranking, losing only to Xar, who has the same number of points, but has an extra 5 points for a face-down, where all other characters get 0 points.
Seer is the one who prophesied the downfall of Xar. Hence the series 2 name "The Prophecy."
Community content is available under
CC-BY-SA
unless otherwise noted.